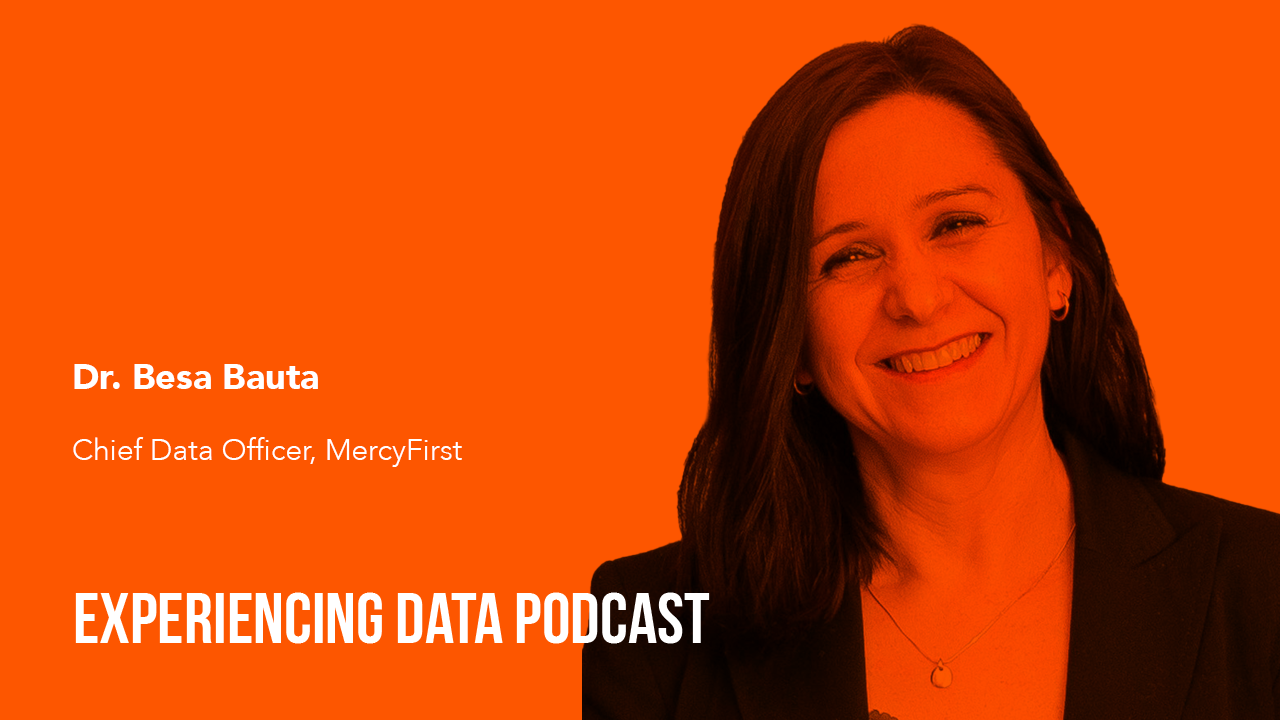 There's a lot at stake in the decisions that social workers have to make when they care for people — and Dr. Besa Bauta keeps this in mind when her teams are designing the data products that care providers use in the field.
As Chief Data Officer at MercyFirst, a New York-based social service nonprofit, Besa explains how her teams use design and design thinking to create useful decision support applications that lead to improved clinician-client interactions, health and well-being outcomes, and better decision making.
In addition to her work at MercyFirst, Besa currently serves as an adjunct assistant professor at New York University's Silver School of Social Work where she teaches public health, social science theories and mental/behavioral health. On today's episode, Besa and I talked about how MercyFirst's focus on user experience improves its delivery of care and the challenges Besa and her team have encountered in driving adoption of new technology.
In total, we covered:
How data digitization is improving the functionality of information technologies. (1:40)
Why MercyFirst, a social service organization, partners with technology companies to create useful data products. (3:30)
How MercyFirst decides which applications are worth developing. (7:06)
Evaluating effectiveness: How MercyFirst's focus on user experience improves the delivery of care. (10:45)
"With anything new, there is always fear": The challenges MercyFirst has with getting buy-in on new technology from both patients and staff. (15:07)
Besa's take on why it is important to engage the correct stakeholders early on in the design of an application — and why she engages the naysayers. (20:05)
The challenges MercyFirst faces with getting its end-users to participate in providing feedback on an application's design and UX. (24:10)
Why Besa believes it is important to be thinking of human-centered design from the inception of a project. (27:50)
Why it is imperative to involve key stakeholders in the design process of artificial intelligence and machine learning products. (31:20)
Quotes from Today's Episode
We're not a technology company, ...so, for us, it's about finding the right partners that understand our use cases and who are also willing to work alongside us to actually develop something that our end-users — our physicians, for example — are able to use in their interaction with a patient. - Besa
No one wants to have a different type of application every other week, month, or year. We want to have a solution that grows with the organization. - Besa on the importance of creating a product that is sustainable over time
If we think about data as largely about providing decision support or decision intelligence, how do you measure that it's designed to do a good job? What's the KPI for choosing good KPIs? - Brian
Earlier on, engaging with the key stakeholders is really important. You're going to have important gatekeepers, who are going to say, 'No, no, no,' — the naysayers. I start with the naysayers first — the harder nuts to crack — and say, 'How can this improve your process or your service?' If I could win them over, the rest is cake. Well, almost. Not all the time. - Besa
Failure is how some orgs learn about just how much design matters. At some point, they realize that data science, engineering, and technical work doesn't count if no human will use that app, model, product, or dashboard when it rolls out.  -Brian
Besa: It was a dud. [laugh].
Brian: —yeah, if it doesn't get used, it doesn't matter
What my team has done is create workgroups with our vendors and others to sort of shift developmental timelines [...] and change what needs to go into development and production first—and then ensure there's a tiered approach to meet [everyone's] needs because we work as a collective. It's not just one healthcare organization: there are many health and social service organizations on the same boat. - Besa 
It's really important to think about the human in the middle of this entire process. Sometimes products get developed without really thinking, 'is this going to improve the way I do things? Is it going to improve anything?' … The more personalized a product is,the better it is and the greater the adoption. - Besa